Thank you to everyone for your continued support of our events. While this event was a bit different than those in the past, we hope you had a great time. Thank you for your patience and understanding as we tried to make the event safe for everyone that attended. We are looking forward to our next Gun/Cash Raffle to be held in March 2021. Stay tuned for details.
Congratulations to the winners of our October 24, 2020 Gun/Cash Raffle.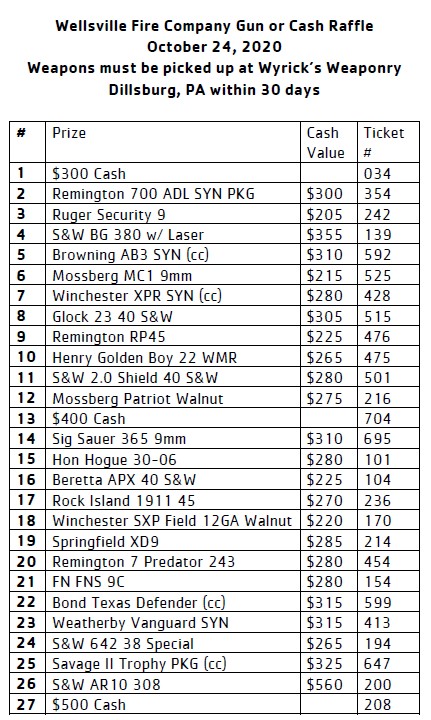 All cash prizes paid by check. All guns subject to availability.
The guns are provided by Wyricks Weaponry in Dillsburg (717-701-5748). All guns must be picked up at Wyricks Weaponry within 30 days. Winning of guns will be applicable to ATF laws at the time of drawing. Winners are responsible for background check fees. Name on the ticket must pass the background check; those that don't pass the check will receive the cash prize. Hand-downs to another person is prohibited. Out of state winners will be responsible for shipping costs to get their weapon to a FFL of the state in which they reside.
If interested in tickets, please call/text Jennifer at 717-324-8198 or 717-432-5428 and leave a message in the events mailbox.
On-line ticket sales - SOLD OUT!