The next event will be held on Saturday, November 4, 2023.
Tickets are $25 per person (MUST be 21). If you purchase your ticket prior to October 2, 2023, you are eligible to be entered in the Early Drawing on Monday, November 9, at 7 pm for a chance at one of the 20 - $25 prizes. You are still eligible for the final drawing the night of the dinner. The dinner is a 1/2 BBQ chicken, steamed shrimp, macaroni salad, baked beans and dessert. Snacks and drinks are also provided.
Raffles and other games of chance available. Doors for the event open at 4:00 pm, dinner is served at 5:00 pm and the final raffle is held around 8:30 pm. For tickets, please call Dee Smith at the firehouse at 717-432-5428 (events mailbox), and leave a detailed voicemail with your name, phone number, and how many tickets you would like and the event coordinator will be in touch.
All tickets for the event must be purchased by october 18, 2023. Online ticket purchases have a small processing fee.
Carry-out meals will NOT be available.
NO tickets will be sold at the door.
MUST BE 21
Mid Drawing Winners List for February 13, 2023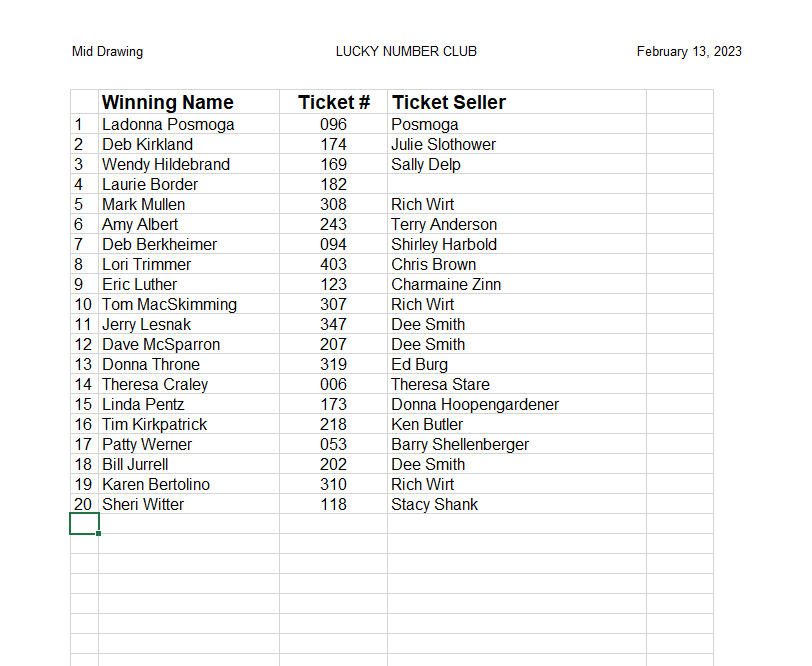 Event Winners List for November 5, 2022